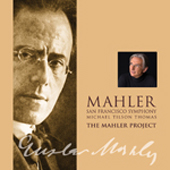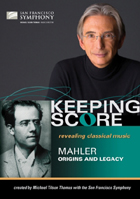 GUSTAV MAHLER - Symphonies Nos 1-9 - Symphony No 10 (adagio) - Kindertotenlieder - Das Klagende Lied - Lieder eines fahrenden Gesellen - Rückert-Lieder - Das Lied von der Erde - Rückert-Lieder for voice and piano - San Francisco Symphony Orchestra - Michael Tilson Thomas (Conductor) - Hybrid SACD 17-Disc Set - 821936003923 - Released: July 2011 -

SFS Media SFS60039





San Francisco Symphony Chorus, San Francisco Girls Chorus, Pacific Boychoir, Isabel Bayrakdarian, Laura Claycomb, Michelle DeYoung, Susan Graham, Anthony Deane-Griffey, Thomas Hampson, Elza van den Heever, Katarina Karnéus, Quinn Kelsey, Sergei Leiferkus, Lorraine Hunt Lieberson, James Morris, Thomas Moser, Yvonne Naef, Marina Shagush, Stuart Skelton and Erin Wall

Recorded in concert at Davies Symphony Hall, San Francisco, 2001-2009 with the exception of Das Klagende Lied, a super audio remaster of a live RCA commercial recording of 1996.



Of and about Mahler:



"No civilization has ever created such a miracle out of musical sounds as European music. European music, with its thousand-year history and its wealth of forms and styles! Europe: great music and homo sentimentalis. Twins nurtured side by side in the same cradle. … Mahler is the last great European composer who still appeals, naïvely and directly, to homo sentimentalis. After Mahler, feeling in music starts to become suspicious; Debussy wants to enchant us, not to move us, and Stravinsky is ashamed of emotion. Mahler is…the ultimate composer."

Milan Kundera

"Should not a symphony reveal those urges that hide in the heart, asking earnestly for expression?"

Gustav Mahler

"Of all the late romantics, Mahler speaks most clearly to our age…But there was more to it than romanticism. What affronts the idealist – the cruelty, vulgarity, triviality and apparent meaninglessness of life – he stares boldly in the face…If half of him was a romantic, the other half was that characteristic twentieth-century figure: the restless seeker of the naked truth (whether 'beautiful' or 'ugly'), ridden with doubt and perplexity, ill-at-ease in an unfriendly cosmos."

Deryck Cooke

"The man who, as I believe, expresses the art of our time in its profoundest and most sacred form"

Thomas Mann

"His music made me a different person…(Mahler is) the central musical figure of my life."

Michael Tilson Thomas




The Mahler phenomenon has absorbed rivers of ink and the foregoing represent a few fragments of the extensive literature devoted to the composer. All of it is meaningless without regular immersion in the music and for most it is recordings which illuminate the path to knowledge and understanding of Mahler. Michael Tilson Thomas brings the scores to life and with a very personal alchemy succeeds in extracting new gold from well-trodden furrows.
The San Francisco Symphony's Mahler Project began on a fateful day-after in 2001 and is now complete and boxed up to celebrate the 100th anniversary of the composer's assumption of the 'heavenly life'. It is the most generous Mahler collection ever offered on compact disc.
The previously issued albums have been reviewed in detail on this site by Jean-Yves Duperron and appear in order of release date in the "Overviews" section. After careful listening and numerous comparisons, this critic can but ardently second Mr Duperron's resounding endorsements. These performances (seven-time Grammy winners) are outstanding with engineering of commensurate quality. This is an unparalleled achievement; not simply an excellent Mahler cycle, but of and in itself an era in Mahler interpretation.

To cycle or not: Norman Lebrecht contends that, "No conductor has all the answers in Mahler, and no boxed cycle by a single interpreter will satisfy the questing mind." Two decades ago record critics would have supported this opinion. Collectors were advised to choose the best available individual performances (for example, No1: Kubelik; No 2: Rattle; No 3: Horenstein; No 4: Szell; No 5: Bernstein; No 6: von Karajan; No 7: Abbado; No 8: Tennstedt; No 9: von Karajan; No 10: Chailly). Those recommendations remain gospel for some but, since the turn of the century, some integral symphony cycles have emerged which make a strong case for single-point consistency with respect to interpretation. The long overdue re-issue of Gary Bertini's Cologne cycle (EMI) and the more recent SWRSO box under Michael Gielen (Hänssler) furnish ample proof. The Amsterdam cycle conducted by Riccardo Chailly (Decca) also demonstrates that the whole can exceed the sum of the parts. Mahler reputations of the future may depend on a conductor's desire and ability to go the whole nine (or ten) yards. By this demanding criterion, Michael Tilson Thomas must be recognized as a master of Mahler's works.

Which Super Audio cycle? As it happened, a comparative Mahler cycle in Hybrid SACD format came to hand with the same North American release date. From RCA, David Zinman conducts the Tonhalle Orchestra Zurich in a 15 disc/1 DVD set. Both issues feature presentation and packaging of artistic merit. Indeed, respective producers are fully aware of what is important to true record collectors and the visual/tangible elements amount to a dual grand remonstrance against the sack cloth and ashes of downloading. Across the board, these sets represent the distillation of luxury goods into one of the necessities of life.
The music of Gustav Mahler spans a full spectrum of interpretation. On the emphatic-romantic side rests the recorded legacy of Leonard Bernstein. At the other extreme are the objective readings of Pierre Boulez and the characterization of Mahler as a modernist. Tilson Thomas nailed his colours to the mast with the first performance of the project released (of Symphony No 6, recorded 12 September 2001) and revealed his admiration for Lenny's manner in this music (but without significant distention of tempos and dynamics). For those whose first acquaintance with the composer came from LB, this is like viewing a familiar landscape after distracting billboards had been removed. MTT can generate the same level of emotional tension as Bernstein did while avoiding exaggeration. The accounts of Symphonies 4, 8 and 9 presented here are better than anything that Lenny left us on disc.
Like Gielen, Zinman pursues a more central axis with elements of almost classical refinement. Respective orchestral playing and playback in super audio surround or stereo and conventional CD mode are comparable (and excellent). If a choice must be made it should be based on preference for the style and specific contents of the boxes. Michael Tilson Thomas places the same importance on Mahler's songs as the composer did himself. His collection is more extensive with three discs of vocal works and the first time release of Rückert-lieder for piano and voice with MTT accompanying Susan Graham. While Zinman tackled the Carpenter 'completion' of the Tenth, Tilson Thomas limits himself to the completed adagio.
So it is Zinman's fifteen discs of well-mannered Mahler against the Tilson Thomas box of seventeen rather less buttoned-down performances. These sets can be recommended to both seasoned collectors and novices. Die-hard Mahlerians will need the pair. David Zinman does have an ace up his sleeve in the form of Viviane Blumenschein's documentary film, Going against Fate. The 80-minute DVD is included in the RCA box. It is constructed around rehearsals, performance and recording of the Sixth Symphony in Zurich. It is a most worthwhile production, not least for the conductor's lusty rendition of Tom Lehrer's rude song, Alma.

Keeping Score: It is also possible to get a good look at the magnificent San Francisco orchestra in the double DVD release of Mahler, Origins and Legacy, a documentary prepared for broadcast on PBS. Total timing for the set is 227 minutes. The documentary appears on the first DVD. It consists of an on-screen, on-location narrative by Michael Tilson Thomas as he retraces the composer's footsteps through Central Europe in a very impressive travelogue. MTT is a gifted communicator. He blends native California ease with old-style East Coast intellect to address a wide audience spectrum which will reinforce old Mahlerians and recruit new ones. The documentary features numerous musical illustrations from concert performances and detailed analysis of some works and highlights from others. The second DVD offers a complete performance of the First Symphony and excerpts from Nos 5, 7 and 9 along with selections from Songs of a Wayfarer with the redoubtable Thomas Hampson as vocal soloist. These films are a valuable adjunct to the audio box and worth the modest additional cost.

Pinching Pennies: The Mahler Project is a considerable bargain. It may be ordered here or from The San Francisco Symphony Store (sfsymphony.org/shop). Purchases made from the Symphony Store support the music and education programmes of the SFS. And let us give thanks to the orchestra's generous patrons including the philanthropist composer, Gordon Getty who made these recordings possible. SFSmedia was the first orchestra-based record label in the US. The Mahler Project is ample proof that the San Franciscans under Michael Tilson Thomas continue to demonstrate consummate leadership in the realm of musical culture.

Stephen Habington - June 2011

Click HERE for a more detailed overview of the recordings of each individual Symphony included in this set.